by Divine Domesticity on April 8th, 2008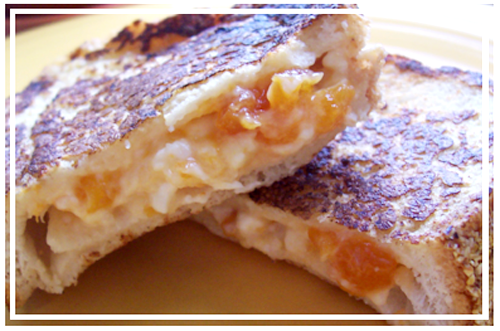 The super funny girls over at
My Vintage Kitchen
posted a while back that they were changing URLs and they weren't taking their old recipes with them. I got their permission to post some of their recipes with a link to their new site,
My Vintage Kitchen
(now at blogger.com). Enjoy!
Apricot Cream Cheese Stuffed French Toast
4-6 servings
1 loaf Italian Bread
1/4 cup cream cheese room temperature
2 Tablespoons Apricot Jam
2 eggs
1/4 cup milk
1 tsp cinnamon
Butter for frying
1. Cut Bread into 1" thick slices. Cut a slit in the center of the slice all the way down to the crust to create a pocket. In a bowl mix your cream cheese and jam. It will be lumpy, that is how you want it! In a shallow dish whisk egg, milk and cinnamon together. Spread your cream cheese/ jam mixture into the pocket of the bread. Dip in the egg mixture for 5 seconds on each side. Fry in pan till golden brown on each side.